Land Rover Series 2a 200 TDI Conversion 1969 Hard Top Tax Exempt
SOLD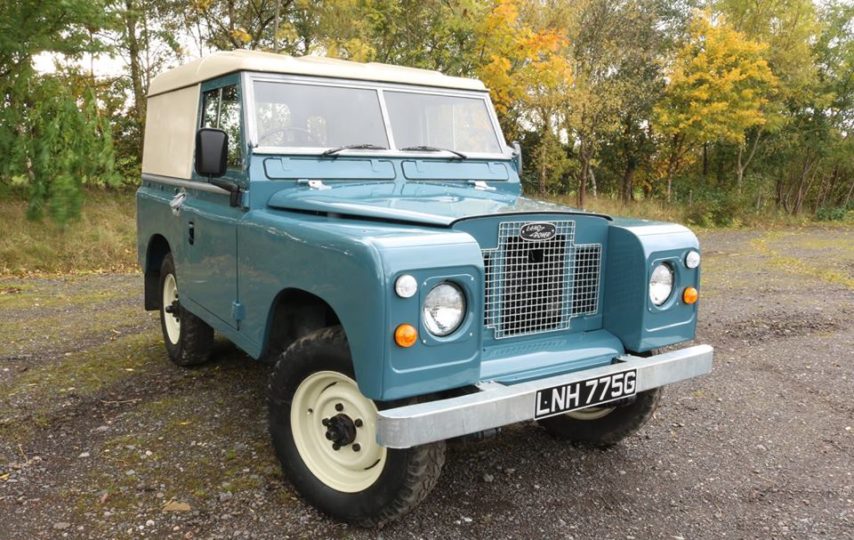 1969 Land Rover Series 2A Short Wheel Base Hard Top. This is one of the first built with the headlights in the wings.

This lovely restoration that has been subject to a ground up rebuild which has included a new galvanised chassis. The restorer also decided to incorporate a 200 Tdi engine into the rebuild which makes modern day use much more bearable particularly in traffic and on motorways. The upgrades are all very substantial and have been incorporated into the rebuild very well.

The vehicle will be supplied with 11 months mot and also has the benefits of being tax exempt. Which is a saving of over £200 per year.

The vehicle was purchased by the previous keeper in October 2012 as a winter project.
A galvanised chassis was purchased and was painted black to aid anti corrosion and to look original as galvanising will only last so long without protection.

The axle casings were shotblasted and painted. Then rebuilt with all new brake parts, drums, shoes, master cylinders, seals, brake pipes, shock absorbers.
The front axles were uprgaded with long wheel base front axle brakes (bigger size drum and shoes) also a new Servo was fitted along with new chrome swivels, seals and track rod ends.

The donor vehicle for the engine was from a Green 3 door Discovery 200Tdi that had succumbed to rust.
The 200 Tdi Engine from the Discovery showing only 94000 miles which is hardly anything for such a reliable and bulletproof engine, a new timing belt and rear crank oil seal were fitted. Along with a new clutch and a rebuilt gearbox. The vehicle fires at the turn of a key there is no smoke on start up and it pulls very well.

Please study the engine bay pictures this is one of the best 200 Tdi engine conversion you will find in a Series 2a complete with the original turbo.

Minor repairs were done to the bodywork, new foot wells and door pillars. Then waxoiled with new galvanised sill rails.

2 New front doors were fitted with Series 3 wing mirrors which improves visibility.
The vehicle has also benefited from a new windscreen, rear door glass and stainless steel side exit exhaust.
All the electrics were re-wired with new lights and indicators, an electric radiator fan with switch on instrument panel. (The viscous fan cannot be used due to the engine location and bodywork.)
While the vehicle was fully dismantled, windscreen frame, body cappings and grille was re Galvanised.
He went to the trouble of rebuilding the rear tub floor with new galvanised cross memebers and a new floor! So no fear of corrosion coming through in the future. No expense has been spared.
The vehicle was then fully repainted in Marine Blue with a Limestone roof and matching wheels.
MOT Tested till Oct 2017 with no advisories
The MOT Tester commented that the brake efficiency/balance was the best he'd seen on a series Land Rover!

A tow bar is fitted with 7 pin electrics.

To his dismay his family who own a very well known and reputable Land Rover Parts Company fitted an RDS radio with USB ports and also with two speakers this is the only creature comfort fitted to this Land Rover.

Photos really don't do this vehicle justice, it's strongly advised that you call and arrange a viewing.

After the rebuild the vehicle has had little use, no towing just pottering about and garaged every night.

Please note this Land Rover is a very good restoration and conversion and is by far one of the best we have ever had the pleasure of owning. The attention to detail really is a credit to the restorer and the way he has incorporated the upgrades to make the vehicle more drivable whilst retaining the original look of the vehicle until you open the bonnet.

A test drive is highly recommended.

This vehicle should give many years of happiness to its new owner.

This is one of the best examples presently on the market that isn't over £20,000.

Back to Vehicles for Sale