Classic Land Rovers for Sale Wiltshire
Williams Classics are able provide to the Wiltshire area with fine classic Land Rover restorations, through their decades of hands-on restoration experience and extensive knowledge of the Land Rover vehicle.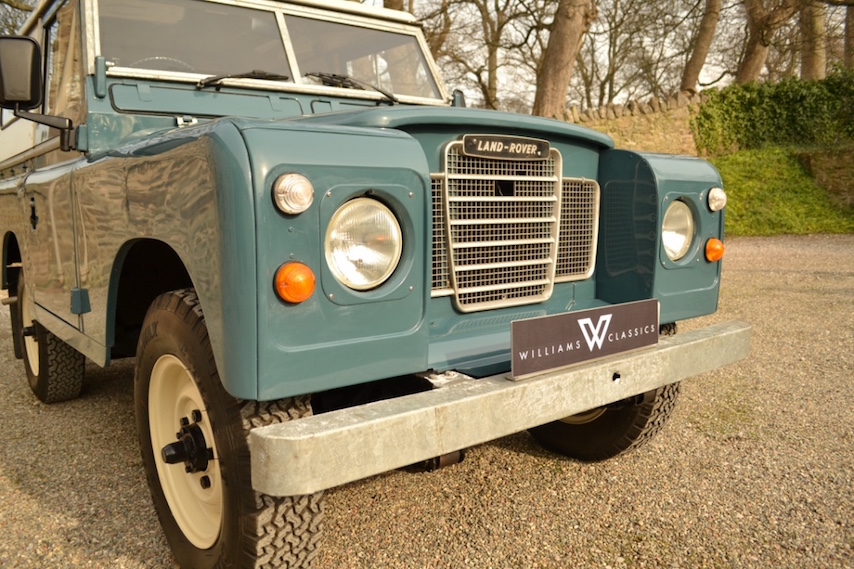 Dedicated to providing only the highest quality resorted classic Land Rovers to their clients, Williams Classics are a provider of the great British brand.
The selection of restored vehicles from Williams Classics are brilliant for both practical and casual usage, ensuring that ensure you are supplied with a truly spectacular vehicle no matter what its purpose is for.
The true passion towards the restoration of classic Land Rovers for the Wiltshire region is evident within the vehicles supplied by Williams Classics. Hours upon hours of work is put into each restoration to ensure it is of the highest quality.
Since its early beginnings in 1948, Land Rover has undergone a glorious adventure in providing the UK and subsequently the world, with incredibly reliable and useful utility vehicles.
From its initial success, Land Rover has been able to build a brand which is recognised and can be found worldwide.
Recognised as one of the best vehicle brands to emerge from Britain, Land Rovers are still being developed with all the latest vehicle technologies, whilst the classic versions still enjoy common practical usage thanks to their reliability and timeless appearance.
The Wiltshire County is home to glorious landscapes, with rolling green hills and scenic landmarks, providing a superb area for a Land Rover to thrive.
With agriculture being part of the Wiltshire economy, these classic vehicles still have very relevant and practical usage – yet are also great for personal use.
Beautifully restored Land Rovers in Wiltshire can be found with ease thanks to Williams Classics, the passionate experts in all classic vehicles.