Land Rover Series 1 80" 1953 Model in Great Condition
SOLD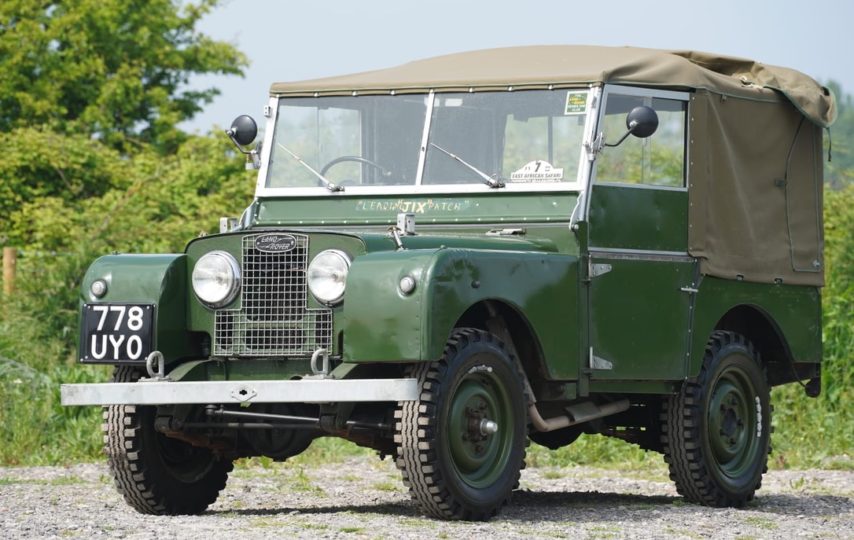 Land Rover Series 1 80" 1953

New into stock undergoing preparation and detailing. More pictures and updated description to follow.

This vehicle was completely stripped and rebuilt in 2014-2015. The previous owner also did further improvements, "since my ownership I have put 5 new Avon Traction 600x16 tyres on, new stainless steel fuel tank, new Fuel Pump and installed a period correct Smith's heater. I have also bought a new Undercover Covers Khaki canvas. "


The vehicle started life in the Burridges of Chippenham Land Rover dealership in Wiltshire on 01/02/1953. I was fortunate enought to track down the son of the person who bought it from new, who was able to share stories of the Land Rover from its early years. I even have some black and white images of it from the 1950's!


From a purist perspective, this vehicle is original Series One. 361 engine, gear box and axles. The vehicle was entirely stripped and rebuilt (there are numerous threads on the LRSOC forum regarding this). It has appeared numerous times in Classic Land Rover Magazine, and was featured in a trip to the Strata-Florida in 2016. Due to its age, the vehicle is Tax and MOT exempt.

All in all, a lovely example of a 1953 Land Rover.

Below I have attached more information given to me by the restorer. If you have any questions please feel free to ask.


Body: all original body panels were retained and repaired as required keeping the original and very historical dents in place (I have photographic evidence of the dents from the 1950's!), stripped back to bare metal and repainted in green. Door tops, windscreen, galv retained where possible if not then its been bare metaled and sprayed with silver mist which is a good colour to blend in with the original galv coatings. doors have been repaired and now use the original style 'trouser ripper' handles. Bonnet and front panel are the originals as are the wings complete with wear and tear.

New hood hoops were fitted. This vehicle has some original 80 inch seats in the rear. Inside the cab it has new seats, original unmolested dashboard. A new Radfords bulkhead was sourced as the original was beyond salvage, new one is to the original design. New floor mats and load liner in the tub. New seals etc to doors and screen, An original 50's butler searchlight is fitted and wired in. Doors have had new perspex and runners fitted.

Chassis: The original 361 chassis was stripped to bare metal and plated properly as required. It was pretty bad in places due to being stood for many years and as such the front dumb irons, rear cross-member, a couple of out riggers and the gearbox cross-member were replaced with ones from Radfords so they are to the original specification. Bushes were replaced in the chassis as a matter of course. Once this was done it has been painted with 4 coats of paint and all the inner surfaces coated with bilt hambler cavity wax as has the outer surfaces with a wax so it will last for many decades without further deterioration. Original draw bar fitted with a tow bar and working electrics.

Running Gear: Correct 1953 80 inch front wide spring axle, correct rear narrow spring axle all checked and painted. all work as they should.
Brakes have been rebuilt with new master and wheel cylinders, brakes work as good as they should. works in all gears and low / high / Replaced front prop shaft, new clutch fitted as well.
Engine is correct number 361 Siamese bore unit which starts and runs very very well with good oil pressure / no smoke and no overheating this has been left as it was and not painted to preserve its patina. The engine has new plugs, new exhaust, new filters, choke warning light works as it should. New solex carburetor fitted.

Steering: An original 1953 brand new & correct steering box was sourced. This has been fitted so the steering is all good with new track rod ends etc.


Any questions please call Miles on 078255 87155


Try our new free valuations service http://www.williamsclassics.co.uk/valuations/


http://www.williamsclassics.co.uk

Any trail or inspection welcome, Credit and debit cards accepted, Delivery can also be arranged, P/X welcome, Any enquires please call 078255 87155.


Back to Vehicles for Sale